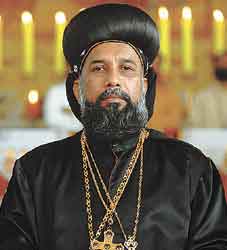 Moran Mor Baselios Cleemis is installed as the Major Archbishop and Catholicos of the Syro-Malankara Catholic Church and Archbishop of Trivandrum on 5 March, 2007 in St. Mary's Cathedral at Pattom, Trivandrum. A large gathering of the faithful and dignitaries attended the solemn function. The dignitaries included Apostolic Nuncio Archbishop Pedro Lopez Quintana, CBCI President Cardinal Telesphore Toppo, CCBI President Archbishop Oswald Gracis and Major Archbishop of Syro-Malabar Church Cardinal Varkey Vithayathil.
Major Archbishop Baselios Cleemis, 48, is the youngest to occupy the highest office in the Syro-Malankara Church since its origin in 1930. The installation began with the Prefect publicly seeking the consent of Mar Cleemis for his installation. He was later seated on a throne and lifted up three times by the chancellors from various Catholic Malankara dioceses. Each time the throne was lifted, a priest specially designated by the prefect chanted `Oxios,' a Syriac word which means `he is worthy.' The cogregation repeated the word in acclamation. Later the Major Archbishop then blessed the gathering.

He was elected by the Syro-Malankara Bishops' Synod which met 7-10 February, 2007 in Catholicos Centre, Trivandrum, Kerala. Pope Bendict XVI confirmed the selection by the Synod. The new Major Archbishop would be called Moran Mor Baselios Cleemis Catholicos.
The newly-elected Major Archbishop was born on 15 June, 1959 and ordained priest on 15 August, 1986. He was consecrated Bishop on 15 August, 2001 and made Archbishop on 15 May, 2006.